We aim to eliminate the task of dividing your project between different architecture and construction company. We are a company that offers design and build services for you from initial sketches to the final construction.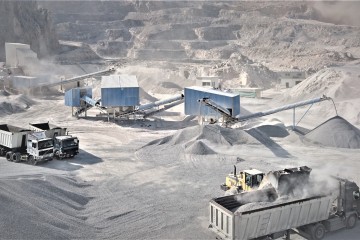 We offer quality tiling and painting solutions for interior and exterior of residential and commercial spaces that not only looks good but also lasts longer. We offer quality tiling and painting solutions for interior and exterior.
Why Choose Us


WE ARE PASSIONATE
We have a proven record of accomplishment and are a reputable company in the United Arab Emirates. We ensure that all projects are done with utmost professionalism providing good quality materials while offering clients the support and accessibility.



 HONEST AND DEPENDABLE
For us, honesty is the only policy and we strive to complete all projects with integrity, not just with our clients, but also our suppliers and contractors. With multiple successful projects under our belt, Al Bahar crusher is a significant regional supplier.



PRINCIPAL ACTIVITY
ABC's principal activity is the extraction of minerals via open cast mining and excavation from its 2 "mountains". The mountains are owned by H.E Sheikh Abdul Malek Kayed Al Qasemi who has licensed the rights for mineral extraction and sale to ABC in exchange for royalties.
We use the best of technology and tools to ensure that all jobs are done quickly but also giving attention to details and ensuring everything is done correctly.
Who We Are?
Al Bahar Crusher is primarily engaged in mining, crushing Low silica limestone for marketing the final products throughout the Middle East countries, India and China. Our main objective is to produce quality products and achieve cost effective technological innovations in mining. Al Bahar Crusher is managed professionaly to remain focused towards increasing productivity and growth while satisfying the clients requirements. 
Our estimated production of 12 Million MT/annum of Steel grade low silica limestone and this is about 80% of the production capacity. We are in a position to increase the production by 100% the current levels with the existing unit.